HOW TO BLOCK YOUR SPAM MESSAGES FROM
marine-embassy-guard-association.googlegroups.com
(or other spam you are receiving)
For Centurylink Customers
In November of 2018, I started receiving spam messages from:
marine-embassy-guard-association.googlegroups.com
I am not signed up for googlegroups nor did I ever request to be added to receive these messages.

After investigating the messages, and after getting no assistance from the marine embassy guard, googlegroups, or centurylink, I found a way to "filter them out" at Centurylink's mail server so that I did not get the messages downloaded on my email programs or apps. Lucky for Centurylink customers, Centurylink provides a filter which will filter by header information. This process should work for any spam messages you are trying to filter out, not just from marine-embassy-guard-association.

Here is how:

1) Look at the email messages in your mail program (such as Outlook). Examine the headers of the messages. If you are not sure how to view the header information, use the help feature in your email program to view the header information in each spam message. Look for commonalities in the headers of the messages. Record which headers have the unique information which is similar in each of the spam messages. You may need to use different headers or different header titles than I have listed below in the sample filters. You want to be careful not to use header tags which may be used in legitimate emails you want to receive.
Sample Email Headers:

Return-Path: Return@bigpond.com
Received: from mx08.onyx.dfw.sync.lan (LHLO mx08.onyx.dfw.sync.lan)
(10.41.8.48) by md187.onyx.dfw.sync.lan with LMTP; Wed, 14 Nov 2018
10:04:21 -0500 (EST)
Return-Path: <Return@bigpond.com>
X_CMAE_Category: , ,
X-CNFS-Analysis: v=2.2 cv=F5kUTPpN c=1 sm=1 tr=0 a=XumMiS+kq7hKiny2Kg==:117 a= a=JHtHm7332UAA:10 a=1WfE4n3PAAAA:20 a=yoHST50LAAAA:20 a=EjC0LSvHAAAA:20 a=BSt_H3XOAAAA:20 a=tclcd6dtLQvEqt9_mmAA:9 a=wPNLvfHPhg1R6AXhwjVo2:23
X-CM-Score: 0
X-Scanned-by: Cloudmark Authority Engine
X-Received-HELO: from [13.58.24.125] (helo=agora06.info)
Received: from [13.58.24.125] ([13.58.24.125:38047] helo=agora06.info)
by smtp.embarq.synacor.com (envelope-from <Return@bigpond.com.au>)
(ecelerity 3.6.25.56547 r(Core:3.6.25.0)) with ESMTP
id 66/00-27043-5793CEB5; Wed, 14 Nov 2018 10:04:21 -0500
from: Home Warranty Special <ZWQKamzHgTAX@clialiedge.com>
Message-ID: <66.00.27053.572CK5@mx08.onyx.dfw.sync.lan>
subject: $50 Off + 1st Month Free Veterans Day Sale!
date:Wed, 10 Nov 2018 13:57:38 +0000
to:johndoe@centurylink.net
reply-to:<ZWQKamzHgTAX@clialiedge.com>
Sender: marine-embassy-guard-association.googlegroups.com
Content-Type: text/html; charset=ISO-8859-1; format=flowed; delsp=yes
Date: Wed, 10 Nov 2018 13:57:38 +0000

2) Determine how many filters will be required. I found in my case that I had to set up two separate filters to filter all the messages out since it appears the messages were coming from several locations.

3) Go to https://centurylink.net/ and click on the mail icon at the top of the page to login to your email account. Login using the email account where you are receiving the spam messages. If you have multiple email accounts with Centurylink, you must login using the email address where you are actually receiving the email spam.

4) Click on the "Preferences" link near the top of the page.

5) On the left side of the page, click on the "Filters" link.

6) Select "Create Filter".

7) Create a title for the filter and enter the filter information you discovered in step 2. The filters I ended up using to filter out 100% of the spam messages are shown below.

8) After setting up the filters, you may want to check your spam messages in the mailbox for several weeks to verify they are not filtering out legitimate messages you want to receive. If they are filtering out legitimate messages, you may need to modify the filter settings.
Note: The emails will not be filtered until new messages arrive. If you can see the spam messages in the inbox, try using the "run filter" option at the top of the filter page.
---
SAMPLE FILTER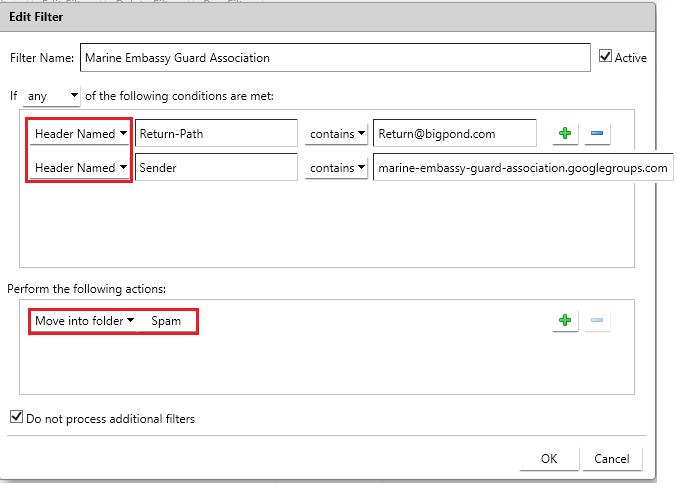 Note: My research indicated that Return@bigpond.com is no longer a valid email address and it should be safe to use it in a filter and not worry about filtering out legitimate emails.
---